Sustainable Tourism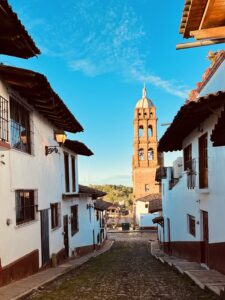 Sustainable tourism, as defined by the World Tourism Organization, encompasses a holistic approach towards minimizing the present and future economic, social, and environmental impacts. It is a responsible form of tourism that addresses the needs of visitors, the industry, the environment, and the host communities.
The Hidden Gems of Tapalpa
Discover the enchanting beauty of Tapalpa, a hidden gem nestled in the Sierra Madre Occidental mountain range. Immerse yourself in the rich biodiversity and cultural heritage of this charming town. From picturesque landscapes to mouth-watering local cuisine, Tapalpa offers a unique and unforgettable experience. Join us as we unveil the secrets of this hidden paradise. Don't miss out on the opportunity to explore Tapalpa's hidden gems!
Discover Chiquilistlan
Embark on a captivating journey to Chiquilistlan, a breathtaking destination nestled in the heart of Tapalpa, Mexico. Prepare to be mesmerized by the allure of this hidden gem, where verdant landscapes and cultural treasures await your exploration. Immerse yourself in the vibrant colors and rich flavors of the local cuisine, as you indulge in the region's gastronomic delights. Unveil the secrets of Chiquilistlan, where enchantment meets authenticity, and create unforgettable memories amidst the awe-inspiring beauty of the Sierra Madre Occidental mountain range. Get ready to embark on an adventure like no other and let Chiquilistlan captivate your heart.